What's mBone good for?
Periodontal disease is the #1 cause of tooth loss in the modern world.
"Bone recession" caused by periodontal disease has been considered, until this day, an irreversible process which leads to extensive tooth loss.
mBone an Israeli Start-up is developing revolutionary Dental Bone Implants that will allow, for the first time complete recovery for gum recession by offering new method for reversing bone recession up to the point of complete regeneration.
mBone's unique platform, which currently has no direct competition, offers advantages over existing treatments as it ends up giving patients exactly what they lost-their own bone tissue and saves their own teeth.



Periodontal disease (Gum recession) is a loss of gum tissue resulting  in exposure of the roots of the teeth.
A common problem in adults over the age of 40, but may also occur in teens. Periodontal disease is usually painless until it is too late.

"Bone recession" caused by gum infection (gum recession) has been considered, until this day, an irreversible process.
Periodontal disease destructive cycle leads to extensive bone loss and tooth  loss Generate patients that are poor candidates for dental implantation due to severe bone Loss.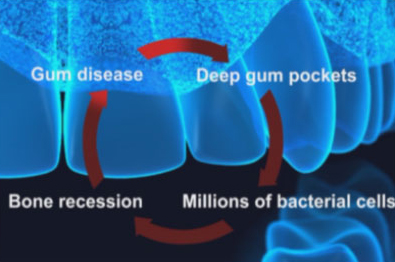 Destructive Cycle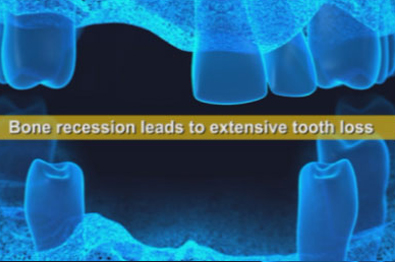 Extensive Bone and Tooth Loss
A new invention of Dental Bone Implants will allow, for the first time, complete recovery for bone recession.  A new invention by mBone Will allow complete recovery of bone recession.

The mBone platform utilizes proprietary software for planning bone implants fitted to a specific patient based on his CT scans The software receives patient's CT and design bone implants fitted with high accuracy to his clinical condition.

The platform then utilizes computer-guided allograft bone processing technologies to create high accuracy bone implants. The implant will enable healing by stabilizing the gap and offering an ideal environment for the body's own bone cells.

Dr Andy Boiangiu - a Dentist with over 19 years of experience in implanting and bone regeneration, a former Chief Dentist of the Ministry of Health, Haifa county, a former head of Biomaterials laboratory and Head lecturer of Biomaterials in the Faculty of Dentistry ,Hebrew University and Hadassah Medical Center, and a former Head of Oral and Maxillofacial Health Center in Tel-Aviv Sourasky Medical Center.
Yossi Haran – an R&D expert with over 20 years of experience in leading R&D teams and transforming new concepts into an FDA approved commercial products.
"Working hard and working
smart sometimes can
be two different things"
Phone: +972-3-5044965
E-Mail: drandy@013.net